Retail Advantage POS Software System and Point of Sale Software Features
Customer Management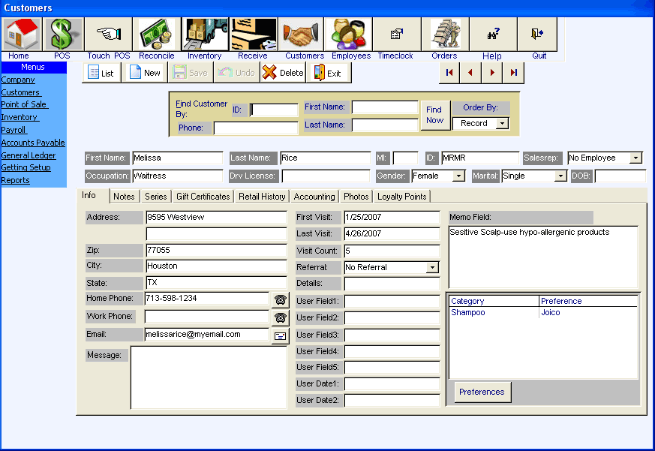 Retail ADVANTAGE POS Software allows you to keep an extensive record of customer information. You can store their address, the particular stylist they continually receive service from, birthdays and types of referrals. We have also included optional fields that you can set up for keeping more information. Each one of your customers has an extensive POS History. Each gift certificate or gift card that customers purchase is saved in the system in the customer's record. You can find out how many gift certificates a customer has as well as the amount remaining on each gift certificate.
Built in mailing label reports will help in your marketing to existing customers. You can even market to your customers based upon Preference settings you have set up in your system. That means you can send a flyer to all your customers that prefer a certain brand.
This integrated solution is a complete answer to your needs because you front desk needs like cash register functions and customer management are integrated with inventory control, payroll, accounts payable and financials! ADVANTAGE Point of Sale Software is the answer to your computer needs!
BACK to Index of Point of Sale Software Features