Reconciliation Report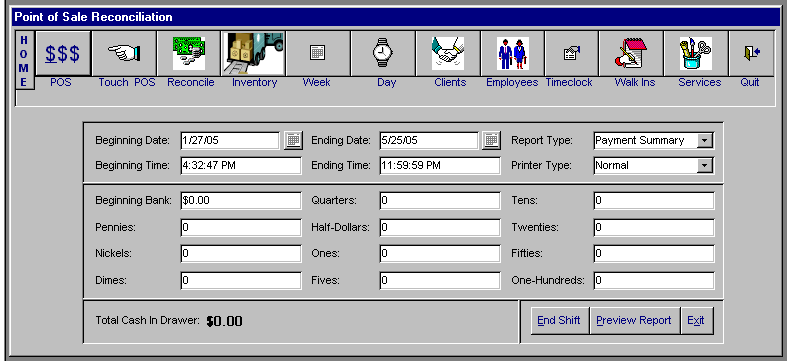 n You may want to print this report at the end of each day. The Point of Sale Reconciliation Report provides a detail or summary of the day's transactions. You can reconcile the drawer at the end of each shift or at the end of the day. To quickly reconcile at the end of a shift, click on the End Shift button.
n The Reconciliation Report provides you with four different types: Payment Summary, Invoice Detail, Pay out Listing, Employee Payment Summary. After you enter the date (or date range) for the report, be sure to choose the type of Reconciliation report before you proceed.
n Do not forget to enter your beginning bank (the amount of money the drawer has initially). While you are counting your money, you can enter in the number of coins and bills in the spaces provided. Make sure you are entering the number you count, not the actual dollar amount because the system will calculate the dollar amount for you based on the quantity you entered.
You can contact a sales rep for Retail Advantage POS Software by calling in the USA toll free at 1-888-785-0882 or for international callers please call us at 281-398-3770. Or email for for more information at sales@aknaf.com for additional information about Retail Advantage POS software.