The Point of Sale (POS) program replicates the operation of a cash register. Menu Items can have custom colors, text, images or can be simple text.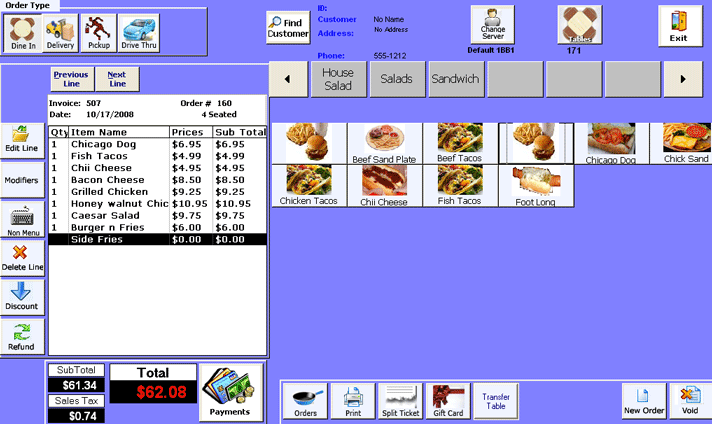 Replaces the need for a cash register
Easy to Use Touch Screen System
Unlimited Menu Items and Categories
Split Tickets
Table Service and Fast Food Modes
Cash drawer & Receipt Printer Compatible
Cash reconciliation reports/Shift Closeout reports
Payout functions and reports
Multiple Tender Types
Tip Calculations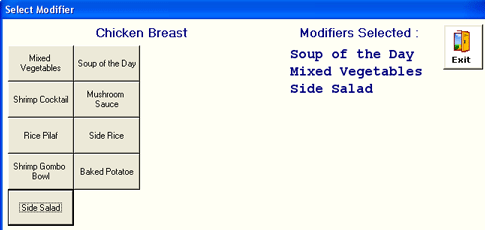 This system also works with a cash drawer, receipt printer, credit card processing and bar code reader to make the POS system automated. We carry different models for your hardware needs and include items for the cost conscious. You can close out or reconcile your cash drawer at any time and even have multiple shifts and multiple operators per shift. The system even tracks the amount of change tendered.
You can also record tips if you like in the POS system. Multi tender transactions are also supported in Cafe ADVANTAGE, that means you can have a customer use two or more types of payment on one transaction. The system can then print out the transaction on professional looking receipts with either single, duplicate or triplicate receipt paper. The system can also handle multiple POS stations for the busy restaurant.
Networking your computers is easy with windows and Cafe ADVANTAGE. Multi User functionality is built in Cafe ADVANTAGE and can handle an unlimited number of workstations working together. In Cafe ADVANTAGE you can close out shifts or the day with detail reports and payment summaries.
The POS system can even record the sale of gift certificates and keep track of unused gift certificates and track them back to a certain client. We put in touch screen point of sale capability for the high traffic time at check out.

BACK to Beginning of Cafe ADVANTAGE Restaurant Management Software Tour