[ PAGE 5 ] Employee/Time Clock:
Employee Time clock
Tracks employee commissions on sales
Security and password system
Report for payroll, sales and time clock
When setting up your employees in the pos software system, you can assign them to different user groups and they can have passwords which allow them to log on to the system. For each user group you can restrict the access they have in the Restaurant Management Software screens to the functions you want them to see.
Do not buy another program or time clock, its already built in Cafe ADVANTAGE Restaurant Management Software. Easy to use and accurate the time clock program will allow you to automate information gathering for your hourly employees!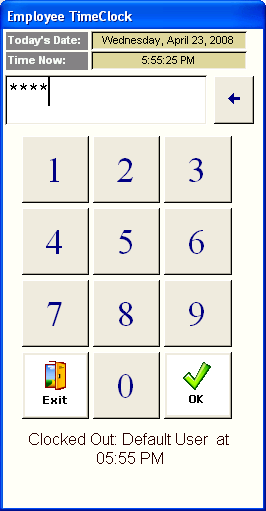 The built in employee time clock in Cafe Advantage Restaurant Management Software keeps track of all the employee hours and calculates wages for those employees. There are additional functions to edit check ins, check outs and hours worked as well as a way to check out employees who forgot to check out.
Integrated in Cafe ADVANTAGE Restaurant Management Software is an employee time clock that will allow you to keep track of your employee check ins and check outs. No other equipment, punch cards or extra software needed this Restaurant Management Software System keeps track of it all.

BACK to Beginning of Cafe ADVANTAGE Restaurant Management Software Tour