April 6, 2015

4 steps to increase your retail or product sales in a salon or spa.
Retail sales in a salon or spa must be at least 15% of overall sales, if you do not reach that goal then your retail department has failed in your salon or spa business. A goal of 25% retail product of overall sales means that you have mastered the sale of products to your clients and reached a threshold of optimum products sales. To reach that goal these 4 steps must be taken.

1) First you must do your presale functions. Presale functions is actually making aware to your clients that you have quality and effective products that have value to your clients. Showcase your products and extended descriptions on your website. With every communications tell your clients in your email newsletters and appointment confirmation emails what products you have and any specials you are having this week. In every phone call with clients have your staff end the call with a quick 5 second recap of any product promotions that you are having.

2) Display your products in an accessible way at all points of entry and purchase. Include pop displays and informational sheets available in your waiting areas and at your stylist chair.

3) Have your stylist or technicians teach your clients about these products during services as well as teach your clients how to use these products effectively. Have stylists prescribe product to your clients. In the advantage software work sheets that can be printed for every appointment there is an area for the stylist to list products that are prescribed to the client. Stylists can give this worksheet to front desk staff for additional follow up.

4) Provide incentive to close the sale by either giving a discount at time of service or discount for quantity purchase for example buy 3 bottles of color safe shampoo for the price of 2. Go to the extent of having a bulk pricing sheet for your top clients where if they purchase high quantities of product they get an even bigger discount.

Use the Employee analysis report in Advantage Salon Software and Spa Software to review your percent retail to service sales and retail % of total sales numbers to review how well your stylists and technicians are pushing your product sales in your salon or spa!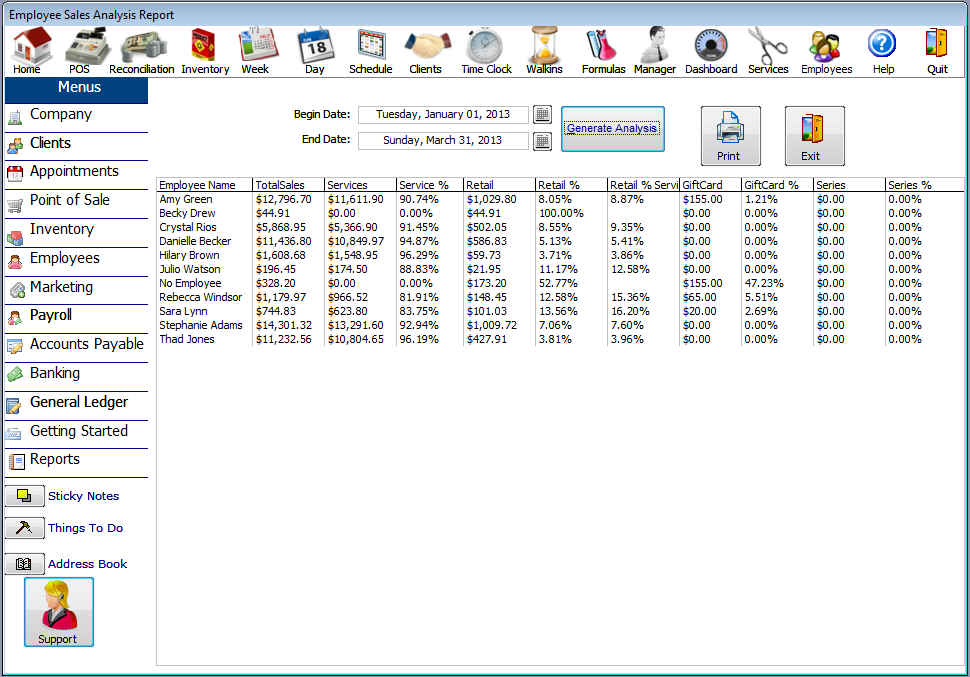 Advantage Salon and Spa Software Blog