Point of Sale Hardware
ADVANTAGE Salon Software and Spa Software Management System is compatible with different types of hardware configurations! Including touch screens, receipt printers, cash drawers, bar code scanners, and magnetic stripe readers!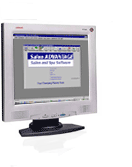 Hardware requirements
PC Computer
16 mb ram minimum, 32 mb or more recommended
Windows 95, 98, NT, 2000, XP, or ME operating system
Hard drive with 50 mb free
Network systems: Windows for workgroups, Windows NT, Novell and others.
Windows compatible printer
CD Rom Drive for installation
This integrated solution is a complete answer to your needs because you front desk needs like appointment book, cash register functions and client management is integrated with inventory control, payroll, accounts payable and financials! ADVANTAGE Salon Software and Spa Software is the answer to your computer needs!